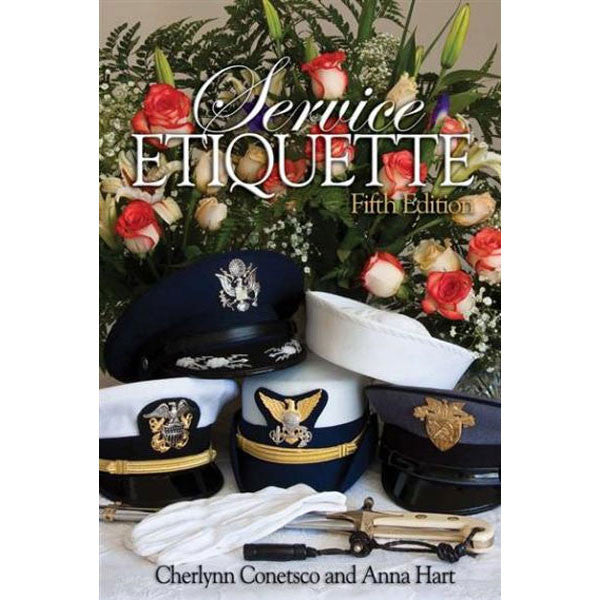 Sale
Service Etiquette, 5th Edition
by Cherlynn Conetsco and Anna Hart
This all-new 5th edition of the venerable Service Etiquette cements the guide's reputation as the definitive resource of military protocol.
International protocol experts Cherlynn Conetsco and Anna Hart have totally rewritten the book, expanding its scope and intended readership from military officers and military spouses to all levels of the military, government, and business professionals. With forty-plus years of collective experience, they are recognized masters in modern etiquette and civility.
Universally applicable, the new edition is a highly readable, multicultural courtesy and planning manual that provides entry-level professionals with a wealth of hands-on detail and vital skill sets. To seasoned military leaders and corporate executives, it offers useful insights in refining social and business models for a diverse selection of both domestic and international constituencies.
Throughout the reference guide, Conetsco and Hart share insights, the latest official information, and modern civility advice. They introduce new material covering international guest and host etiquette, including manners at the global dinner table, public use of personal electronic devices and email manners, and essential protocol during government ceremonies, business receptions, and high-profile visits. They spotlight individual responsibilities, such as proposing toasts and navigating receiving lines, in detail. Seating plans are included for conference rooms, auditoriums, and dining tables. There are checklists and step-by-step scripts for organizing a Dining In or a Fallen Comrade observance. For fast reference, the first page of each chapter includes a box listing key points covered.
Naval Institute Press
ISBN 978-1591143574
9.5" x 6.5" Hardcover
562 pages
Orders received during our holiday/vacation office closings will ship on the following business day. We apologize for any inconvenience. 
Military Family Books is open Monday - Thursday 8 am - 2 pm CST. If you need help selecting resources or have special shipping needs, please call us at 651-357-8770.
Most case and bulk orders ship within one day. Noted products ship within two weeks.
Ground shipping includes USPS media mail and FedEx or UPS ground. For Priority Mail, FedEx 2 Day or other expedited shipping options, please call 651-357-8770.
For products such as ebooks and music downloads that do not require shipping, you will receive an email with a link to download your purchase.