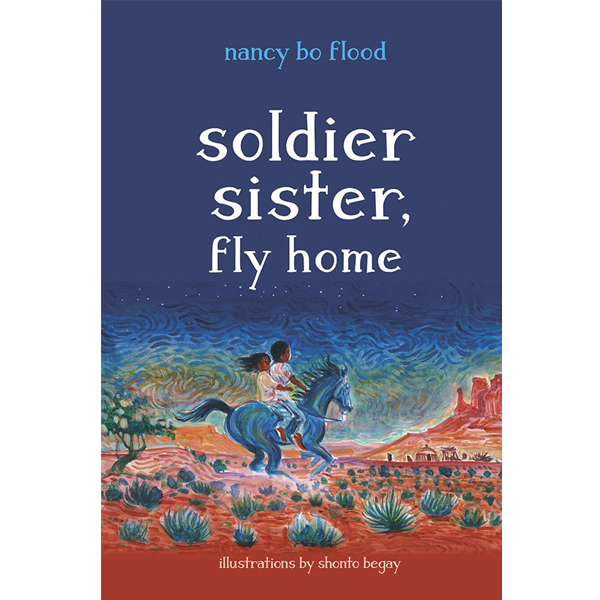 Soldier Sister, Fly Home
by Nancy Bo Flood, illustrations by Shonto Begay

Fourteen-year-old Tess is having a hard enough time understanding what it means to be part white and part Navajo, but now she's coping with her sister Gaby's announcement that she's going to enlist and fight in the Iraq war. Gaby's decision comes just weeks after the news that Lori Piestewa, a member of their community, is the first Native American woman in US history to die in combat, adding to Tess's stress and emotions. While Gaby is away, Tess reluctantly cares for her sister's semi-wild stallion, Blue, who will teach Tess how to deal with tragic loss and guide her own journey of self-discovery.

Lori Piestewa was a real-life soldier who was killed in Iraq and was a member of the Hopi tribe. Back matter includes further information about Piestewa as well as a note by author Nancy Bo Flood detailing her experiences living on the Navajo reservation. A pronunciation guide to all Navajo vocabulary used within the text is also included.

Charlesbridge Publishing
ISBN 9781580897020
6"x9" Hardcover
144 pages

Orders received during our holiday/vacation office closings will ship on the following business day. We apologize for any inconvenience. 
Military Family Books is open Monday - Thursday 8 am - 2 pm CST. If you need help selecting resources or have special shipping needs, please call us at 651-357-8770.
Most case and bulk orders ship within one day. Noted products ship within two weeks.
Ground shipping includes USPS media mail and FedEx or UPS ground. For Priority Mail, FedEx 2 Day or other expedited shipping options, please call 651-357-8770.
For products such as ebooks and music downloads that do not require shipping, you will receive an email with a link to download your purchase.