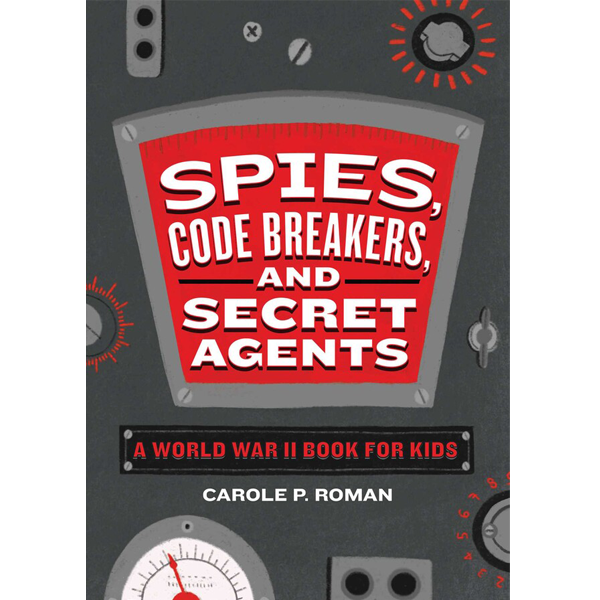 Spies, Code Breakers, and Secret Agents: A World War II Book for Kids
by Carole P. Roman

In Spies, Code Breakers, and Secret Agents, uncover the hidden heroes and villains of World War 2. An exciting history book for kids 8 to 12 years old, Spies, Code Breakers, and Secret Agents explores the intriguing world of spycraft and shows what goes on behind the scenes in war.

From spy schools and ciphers to sneaky tools and secret armies, this guide takes you on a declassified tour of the undercover operations that helped decide the outcome of World War 2. There's also more than a dozen short spy-ographies that cover some of the most famous (and infamous!) agents that were active during the war.

Spies, Code Breakers, and Secret Agents includes:

Fun for aspiring historians—Dig into the causes of and what led up to World War 2 so you can better understand the important part spies played in it.
A family-friendly exploration—Learn about history in a fun and accessible way that anyone can enjoy.
Covert illustrations—Get an up-close look at actual spies, as well as some seriously amazing spy gear.
Carole P. Roman is the award-winning author of more than 50 children's books. Whether about pirates, princesses, or discovering the world around us, her books have enchanted educators, parents, and her diverse audience of children. She hosts three blog radio programs and is one of the founders of magazine Indie Author's Monthly.

Rockridge Press
ISBN 9781646111015
5.5"x8.5" Paperback
152 pages

Orders received during our holiday/vacation office closings will ship on the following business day. We apologize for any inconvenience. 
Military Family Books is open Monday - Thursday 8 am - 2 pm CST. If you need help selecting resources or have special shipping needs, please call us at 651-357-8770.
Most case and bulk orders ship within one day. Noted products ship within two weeks.
Ground shipping includes USPS media mail and FedEx or UPS ground. For Priority Mail, FedEx 2 Day or other expedited shipping options, please call 651-357-8770.
For products such as ebooks and music downloads that do not require shipping, you will receive an email with a link to download your purchase.