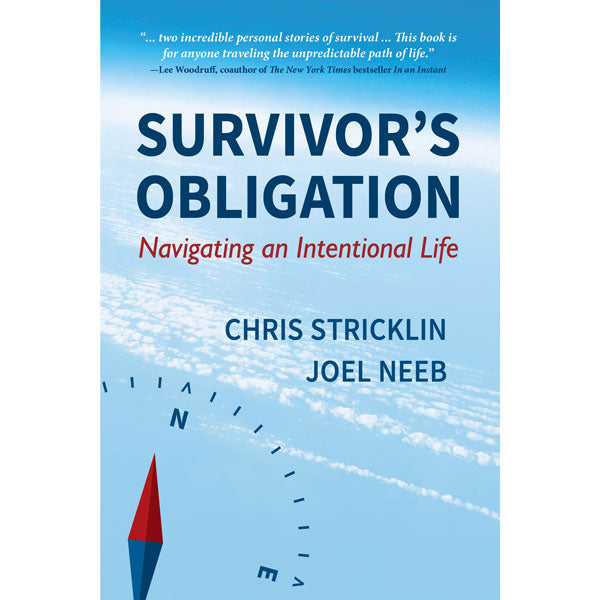 Sale
Survivor's Obligation: Navigating an Intentional Life
by Chris Stricklin and Joel Neeb
Chris Stricklin ejected from the F-16 he was piloting during a Thunderbirds air show. Joel Neeb was diagnosed with a rare and often fatal cancer. Against the odds, both survived.
Chris and Joel met years after their individual life-changing events and discovered they both had a desire to share their stories to help others. They resolved to fulfill what they call survivor's obligation—a responsibility to live an intentional life—for themselves and their families, and in honor of those who didn't get a second chance.
In Survivor's Obligation, Chris and Joel share the true stories that transformed their lives. They explore the questions they asked themselves about why they received a second chance at life when others did not. Along their journey of healing, they discovered the power of gratitude, growth, and giving to help them navigate their everyday choice to live intentionally.
Reflection questions in the back of the book allow readers to find connections in their own lives and inspiration for navigating an intentional life.
"... two incredible personal stories of survival ... This book is for anyone traveling the unpredictable path of life."
—Lee Woodruff, coauthor of The New York Times bestseller In an Instant
" … Chris and Joel teach life-changing messages through their dramatic and powerful stories. Trust me … you need to read this book!"
—James C. Hunter, international bestselling author of The Servant
" … Compelling and raw … we can overcome emotional and physical trauma by choosing to focus on gratitude, growth and giving … Everyone needs inspiration. Survivor's Obligation delivers!"
—Deborah Lee James, 23rd Secretary of the Air Force, and author of Aim High: Chart Your Course and Find Success
"Most of us discover we are mortal when it's too late, but Survivor's Obligation offers this wisdom right now. To do as the Zen masters advise—to die before you die so you can truly live—you must read this book."
—Fred Kofman, leadership development advisor at Google and author of Conscious Business and The Meaning Revolution
Elva Resa
ISBN  978-1-934617-47-2
6"x9" Hardcover
128 pages
Also available:
Case of 40 Books
Ebook
Orders received during our holiday/vacation office closings will ship on the following business day. We apologize for any inconvenience. 
Military Family Books is open Monday - Thursday 8 am - 2 pm CST. If you need help selecting resources or have special shipping needs, please call us at 651-357-8770.
Most case and bulk orders ship within one day. Noted products ship within two weeks.
Ground shipping includes USPS media mail and FedEx or UPS ground. For Priority Mail, FedEx 2 Day or other expedited shipping options, please call 651-357-8770.
For products such as ebooks and music downloads that do not require shipping, you will receive an email with a link to download your purchase.