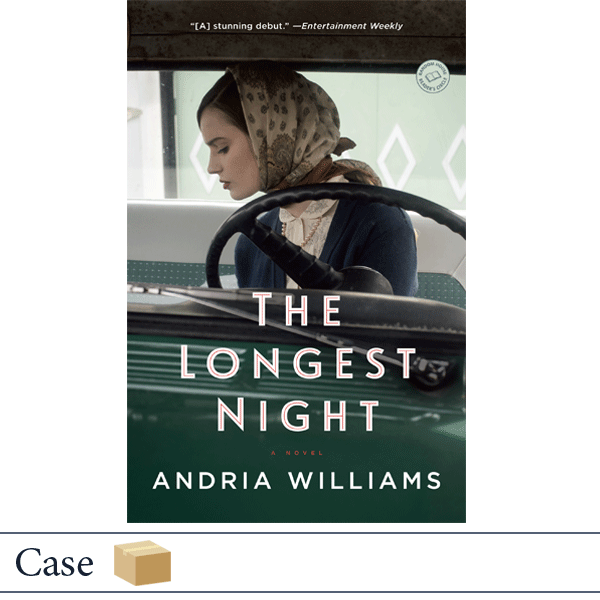 Sale
The Longest Night: A Novel
by Andria Williams
1 Case/24 Books
Ships in two weeks.
In 1959, Nat Collier moves with her husband, Paul, and their two young daughters to Idaho Falls, a remote military town. An Army Specialist, Paul is stationed there to help oversee one of the country's first nuclear reactors—an assignment that seems full of opportunity.
Then, on his rounds, Paul discovers that the reactor is compromised, placing his family and the entire community in danger. Worse, his superiors set out to cover up the problem rather than fix it. Paul can't bring himself to tell Nat the truth, but his lies only widen a growing gulf between them.
Lonely and restless, Nat is having trouble adjusting to their new life. She struggles to fit into her role as a housewife and longs for a real friend. When she meets a rancher, Esrom, she finds herself drawn to him, comforted by his kindness and company. But as rumors spread, the secrets between Nat and Paul build and threaten to reach a breaking point.
Based on a true story of the only fatal nuclear accident to occur in America, The Longest Night is a deeply moving novel that explores the intricate makeup of a marriage, the shifting nature of trust, and the ways we try to protect the ones we love.
Andria Williams received her MFA in creative writing from the University of Minnesota. She and her husband, an active-duty naval officer, are currently stationed in Colorado with their three young children. This is her first novel.
Penguin
ISBN 978-0-812987-42-3 CASE
5.2" x 8" paperback
416 pages
Case = 24 Books

Orders received during our holiday/vacation office closings will ship on the following business day. We apologize for any inconvenience. 
Military Family Books is open Monday - Thursday 8 am - 2 pm CST. If you need help selecting resources or have special shipping needs, please call us at 651-357-8770.
Most case and bulk orders ship within one day. Noted products ship within two weeks.
Ground shipping includes USPS media mail and FedEx or UPS ground. For Priority Mail, FedEx 2 Day or other expedited shipping options, please call 651-357-8770.
For products such as ebooks and music downloads that do not require shipping, you will receive an email with a link to download your purchase.