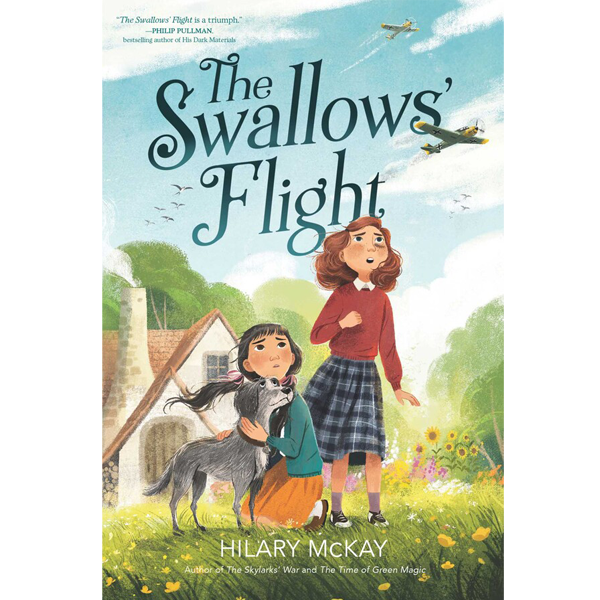 The Swallows' Flight
by Hilary McKay

In England, Ruby has no friends because of the speckled blotches on her face that kids say look like dirt. And Kate is sickly all the time, her older siblings each taking turns looking after her. Ruby and Kate's first meeting is nearly disastrous, but the two lonely girls soon strike up a friendship. Their connection becomes all the more important when England joins the war against Germany and the blitz begins overhead.

In Germany, Erik and Hans are best friends filled with plans for their future: Erik taking over their beloved local zoo, and Hans serving pastries right outside the gates. They never expected to be forced to join the national service, training as pilots and tasked with hurting people.

And in London a mistreated dog roams the streets looking for handouts, and for a friend.

All of these lives will cross in the most surprising ways in this heartrending tale of war and compassion, and hope that can be found in even the most unexpected friendships, brought to life by award-winning author Hilary McKay.

Simon & Schuster (McElderry Books imprint)
ISBN 9781665900928
5.71" x 8.86" Paperback
304 pages
Orders received during our holiday/vacation office closings will ship on the following business day. We apologize for any inconvenience. 
Military Family Books is open Monday - Thursday 8 am - 2 pm CST. If you need help selecting resources or have special shipping needs, please call us at 651-357-8770.
Most case and bulk orders ship within one day. Noted products ship within two weeks.
Ground shipping includes USPS media mail and FedEx or UPS ground. For Priority Mail, FedEx 2 Day or other expedited shipping options, please call 651-357-8770.
For products such as ebooks and music downloads that do not require shipping, you will receive an email with a link to download your purchase.