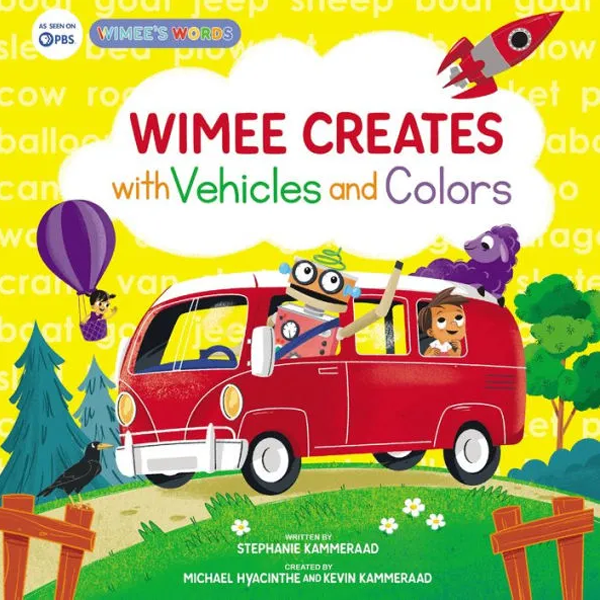 Wimee Creates with Vehicles and Colors
by Stephanie Kammeraad, created by Kevin Kammeraad and Michael Hyacinthe

Be a creator with Wimee! In Wimee Creates with Vehicles and Colors, join your favorite robot Wimee from the show Wimee's Words (as seen on PBS) for some wacky wordplay and visual fun. This simple concept book, perfect for early readers ages 3-6, teaches rhyming and colors, plus prepositions and action verbs, and encourages readers to find more rhymes and make their own images.
Wimee Creates with Vehicles and Colors includes:
Pairs of rhyming words that are combined to make a silly sentence.
Simple illustrations focusing on familiar shapes and primary colors.
A note to parents and educators with ideas on how to use the book for further learning.
Examples of more words to rhyme.
Wimee's Words is an interactive mixed media show for preschoolers that inspires kids to learn through imagination, vocabulary building, and storytelling through puppetry, music, wordplay, and technology. Watch Wimee on your local PBS affiliate!
Zonderkidz
ISBN 9780310153580
8.2" x 8.3" Hardcover
32 pages
Orders received during our holiday/vacation office closings will ship on the following business day. We apologize for any inconvenience. 
Military Family Books is open Monday - Thursday 8 am - 2 pm CST. If you need help selecting resources or have special shipping needs, please call us at 651-357-8770.
Most case and bulk orders ship within one day. Noted products ship within two weeks.
Ground shipping includes USPS media mail and FedEx or UPS ground. For Priority Mail, FedEx 2 Day or other expedited shipping options, please call 651-357-8770.
For products such as ebooks and music downloads that do not require shipping, you will receive an email with a link to download your purchase.