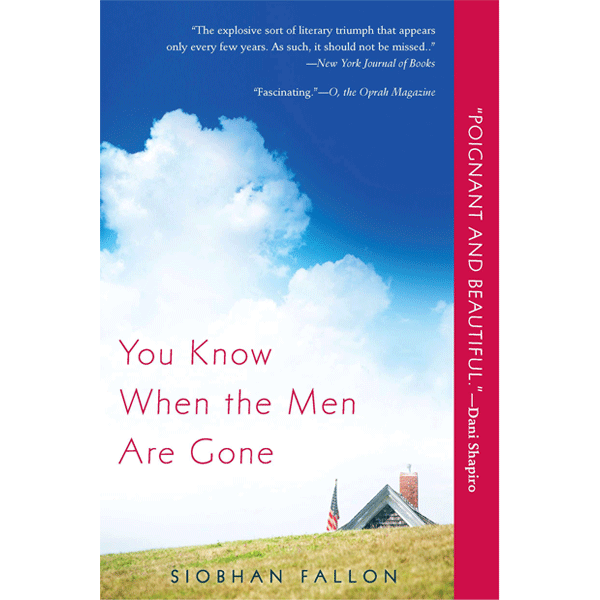 You Know When the Men Are Gone
by Siobhan Fallon
Through fiction of dazzling skill and astonishing emotional force, Siobhan Fallon welcomes readers into the American army base at Fort Hood, Texas, where U.S. soldiers prepare to fight, and where their families are left to cope after the men are gone. They'll meet a wife who discovers unsettling secrets when she hacks into her husband's email, and a teenager who disappears as her mother fights cancer. There is the foreign born wife who has tongues wagging over her late hours, and the military intelligence officer who plans a covert mission against his own home.
Powerful, singular, and unforgettable, these stories will resonate deeply with readers and mark the debut of a talent of tremendous note.
Siobhan Fallon is the author of the novel The Confusion of Languages and the short story collection You Know When the Men Are Gone, which won the PEN Center USA Literary Award in Fiction, the Indies Choice Honor Award, and the Texas Institute of Letters Award for First Fiction. Her writing has appeared in The Washington Post Magazine, Woman's Day, Good Housekeeping, Military Spouse, The Huffington Post, and NPR's Morning Edition, among others. She and her family moved to Jordan in 2011, and they currently live in Abu Dhabi, United Arab Emirates.
Penguin
ISBN 978-0-451234-39-1
5.5" x 8.3" paperback
256 pages
Orders received during our holiday/vacation office closings will ship on the following business day. We apologize for any inconvenience. 
Military Family Books is open Monday - Thursday 8 am - 2 pm CST. If you need help selecting resources or have special shipping needs, please call us at 651-357-8770.
Most case and bulk orders ship within one day. Noted products ship within two weeks.
Ground shipping includes USPS media mail and FedEx or UPS ground. For Priority Mail, FedEx 2 Day or other expedited shipping options, please call 651-357-8770.
For products such as ebooks and music downloads that do not require shipping, you will receive an email with a link to download your purchase.